Wearable art, also known as Artwear or "art to wear", refers to individually designed pieces of (usually) handmade clothing or jewelry created as fine or expressive art. While the making of any article of clothing or other wearable object typically involves aesthetic considerations, the term wearable art implies that the work is intended to be accepted as a serious and unique artistic creation or statement. Wearable art is not intended to be worn as everyday clothing but one that is meant to draw attention while it is being displayed or modeled. Pieces may be sold and/or exhibited.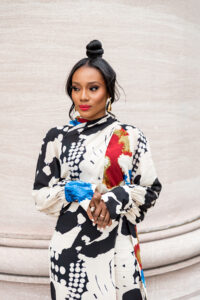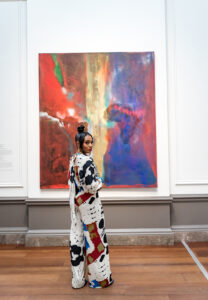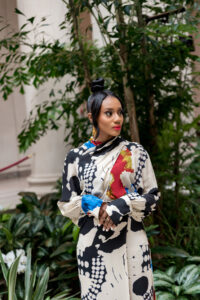 As I've gotten older, I've realized that ready to wear fashion has always been very dull for me. So, when I notice a piece that speaks to me, I make sure to snag it. I've noticed that I tend to gravitate to clothes that make me feel something or were vivid in color, texture, cut or draped in a different shape. I've always had a love for Avant Garde fashions but not having access due to price point is a fashion heartache.
Luckily for me, having a Nigerian background we have a vast fashion history. We design and have clothes sewed for special occasions. I also loved getting ready for big events because that means I could come up with a unique design that I could show off. Attending a Nigerian event felt like my own personal Met Gala. Unfortunately living in the diaspora, we didn't have access to many seamstresses and tailors depending on the area that you live, which forced me to learn how to sew my own clothes. Learning the fundamentals of sewing made me love fashion so much more and made me aware of different fabrics and how they were put together. Working 50+ hours a week doesn't give me the freedom to sew as much as I would like, so shopping for unique pieces is now a hobby of mine.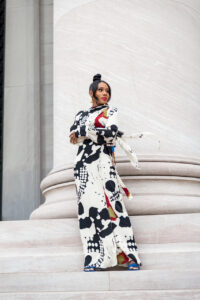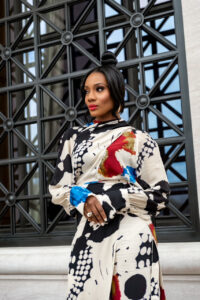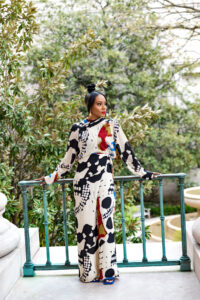 Not sure if it was the pandemic that caused fashion to decline on the racks, let's be honest we really thought Covid was the end of the world. Spring/Summer 2022 has not disappointed so far. When Zara published this look, I immediately fell in love with the pattern and design of the fabric. The mid-rise pareo pants made of heavy georgette and brush stroke and ink blots design quickly grabbed my attention. I almost missed out on the full look thinking it would still be there later. Once I received my packaged and tried on the set, I knew I had to shoot it in a museum to capture the beauty of this one-of-a-kind set. Living in the DMV area I have access to so many different museums. The National Gallery of Art had a new exhibition called Afro-Atlantic Histories, which takes an in-depth look at the historical experiences and cultural formations of Black and African people since the 17th century. More than 130 powerful works of art, including paintings, sculpture, photographs, and time-based media by artists from Africa, Europe, the Americas, and the Caribbean, bring these narratives to life. If you are visiting the DC area this exhibit will be on display April 10 – July 17, 2022. You will not be disappointed.
Top: Zara PRINTED BLOUSE WITH BOW LIMITED EDITION (ECRU | 2722/148)
Bottom: Zara PRINTED PAREO PANTS LIMITED EDITION (MULTICOLORED | 2801/158)
Shoes: Zara HEELED SANDALS WITH THIN STRAPS (BLUE | 3344/810)
Earrings: Zara TRUMPET FLOWER EARRINGS (GOLDEN | 1124/009)
Clutch: Acrylic Evening Bag